Accessible Gympie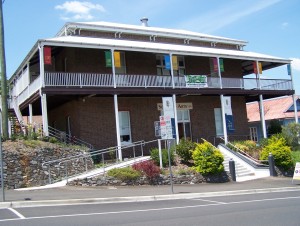 The accessible Gympie Regional Gallery
The Gympie Region offers the traveler with mobility needs a range of wheelchair accessible facilities to ensure that your stay is comfortable and enjoyed with a minimum of fuss.
For more information contact the Access Advisory Committee by calling 0439 533 865 or send an email to info@aacgympie.org.au
PUBLIC TRANSPORT
Contact TransLink on 13 12 30 for public transport information. Visit their website www.translink.com.au
ACCESSIBLE PARKING
The City of Gympie offers free regulated parking throughout the CBD. Wheelchair accessible parking bays are available for both Australian Disability Parking Permit holders and Queensland Disability Parking Permit (Red Permit) holders.
On-Street Accessible Parking
Mary St (6 locations)
Smithfield St (5 reverse-in bays)
Reef St (2 bays near Memorial Lane)
Mellor St (outside Gympie Library)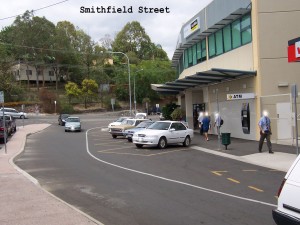 Smithfield St accessible parking bays
HOLIDAY GUIDE
The latest Holiday Guide and other information from Destination Gympie Region.
Click on the following thumbnail image for a full screen view of the latest accessibility information compiled by the Access Advisory Committee:
TAXIS
Gympie has three wheelchair accessible Maxi Taxis that can take wheelchairs or scooters. Contact Gympie Golden City Cabs on 13 10 08 for all bookings. Taxi ranks are located in Monkland Street, Calton Hill (Five Ways) and Smithfield St.
PUBLIC TOILETS
Council owned wheelchair accessible public toilets are located at:
Gold City Centre Mary St
Memorial Lane Mary St
One Mile Oval Crescent Rd
Exhibition Rd Southside
Marc Dower Pk Southside
Lake Alford Bruce Hway
Chatsworth Park Bruce Hway
See also "The National Public Toilet Map" at www.toiletmap.gov.au or phone 1800 990 646 to request free printed copies of maps.
SWIMMING POOL
The Gympie Memorial Pool has wheelchair access to the complex via the wheelchair accessible parking bays off River Road, Gympie.
The 50m pool has a fully operational pool hoist and pool wheelchair for access. Contact the pool operators for further information.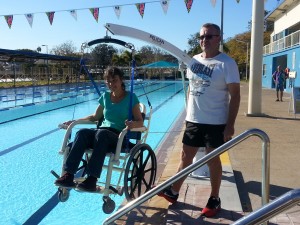 Work has also commenced on the new Gympie Region Aquatic Recreation Centre which will be fully wheelchair accessible when completed.
ALL ABILITIES PLAYGROUND
Gympie's All Abilities Playground is located on the southern entry to Gympie at Lake Alford. Entry is directly from the Bruce Highway. This beautiful and well-equipped playground has wheelchair accessible parking, a range of accessible toilets for children and adults, and a wide variety of playground equipment catering for children of all abilities and ages. It features a sensory garden, sand and water play, two adventure climbing nets, swings with special supportive seating and lots of other play options. There are BBQS, seating and shelters. The park is also is fully fenced, shady and has rubber soft-fall. It's very popular for birthday parties. See this review.
Lake Alford itself adjacent to the All Abilities Playground also has great walking and cycling tracks around the lakes, as well as ducks and other wildlife.